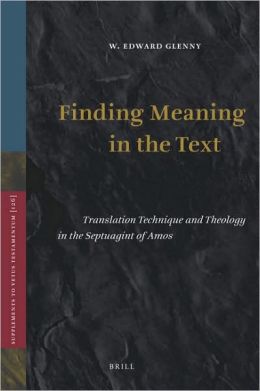 On a personal note, my dissertation deals with the meaning of the Book of the Twelve in the Book of Acts. Last November at the national ETS meeting I had the privilege to meet and get coffee with Ed after his presentation on the two Amos quotations in Acts (a topic I presented on a year earlier at an SBL meeting). Our interaction was fruitful and I am looking forward to reading this book, as well as his volumes on the Minor Prophets from the Septuagint Commentary Series (I will be receiving those as well from Brill as they appear, so stay tuned for reviews!). It is always a blessing to be able to interact with one who not only knows the stage of life you are going through, but also the material you will be working with!
A key question I will be interested to hear an answer on in this monograph is why the book of Amos is studied apart from the other 11 prophets bound in the same book. The evidence is rather overwhelming concerning the redactional intentionality for the literary and theological unity of the Twelve in both the Hebrew (MT) tradition as well as the Greek tradition; and NETS, as far as I can remember, supposes one translation technique for the Twelve. I am interested to hear Glenny on why the redaction of the LXX/Amos and theology this redaction reveals is treated in segregation from it
Sitz im Text
. It could simply come down to the necessary evil in writing a dissertation of limiting your focus! Nevertheless, I am excited to peruse it.
My Review